MENU
OTHER

Death at Kaaterskill Falls

Marcel R. Pilette, 58, from Delmar was found dead at 1:30 PM on December 29, 2009 (Sunday) at the bottom of Kaaterskill Falls. He fell from the top of the upper falls to the basin below. The upper falls is 167' high. Only one person has survived this fall. Hundreds of people have died at Kaaterskill Falls over the past 200 years. He is the forth accident victim this year. In 2009 there has been two confirmed and known deaths. One very serious injury that may have also died after a helicopter extraction. A forth person slipped and was caught and rescued before falling. Click on picture for more details.



Zipline coming to Hunter

Hunter Mtn will install a Zipline. Concrete pads have been poured, and construction will begin on Jan 9. Over time, it will attract 60k visitors per year. It generally cost $10/ride or $65/day. Click on picture for more details.



DEP Plans thru 2022

NYC plans on purchasing a significant amount of land in the next 12 years. They will also purchase smaller parcels, and enact more restrictions on the community. They will concentrate on Scoharie, Pepacton and Cannonsville basins. Click on picture for more details.



Winter has Arrived!

After a long Fall season, it seemed that Winter would never arrive. Last week it was inthe 60's, and this week there was a 1/2 foot of snow on the Catskill Peaks. Picture of the summit of Plattekill Mountain.



Opening Day

Both Hunter Mountain Ski Bowl and Windham Mountain are projecting to open for downhill skiing operations the weekend of December 5/6 2009. This is assuming that the weather stays cold. Click on the picture for more details



Hunting Season

On November 21, 2009 Hunting season opens for Deer and Bear with guns. It continues until December 13, 2009. In recent years the harvest of both Bears and Deer has increased dramatically. Click on picture for more information and links.



Winters-a-Comin!

On October 15, 2009 the Catskill Mountains got a quick shot of winter. 1-3 inches of snow fell above 3,000 feet. Picture shows Burnt Knob with a snow covering. Time to dust off your Microspikes and snowshoes.



Leaf Foliage Report

Catskill Mountains

1,000'+ 100% changed - 100% Fallen
2,400'+ 100% changed - 100% Fallen
3,500'+ 100% changed - 100% Fallen
Image: Platte Clove Valley from Stone Chairs on Oct 10, 2009






DEC campgrounds are closing - NYS DEC campgrounds are starting to close. Most DEC campgrounds will be closed after Columbus Day. North/South Lake Campground will close October 25, 2009. Click on picture to review closing dates.



| | |
| --- | --- |
| Large surge in bee populations due to a wet June/July - Due to the record rain falls in June and July there was larger then normal flower population in 2009. This has lead to more bees nest and larger bee populations within the nest. Doctors are reporting a significant increase of bee stings this year. Bees should die off around the middle of October. | |
| | |
| --- | --- |
| White Nosed Syndrome Fungus killing bats in record numbers - The fungus causes hibernating bats to wake up in the middle of the Winter. This causes them to seek food during the Winter months. Since it is Winter, they cannot find food and die. It is estimated that 90% of bats in infected caves have died. Several years ago, bats were common in New York State. Today, sightings are rare. Each bat eats 45 million insects during their lifetime. In the coming years, we can expect explosion of populations of mosquitoes, black flies, and other insects. Black flies normally disappear around June. In 2009, Black Flies were seen into August. | |
| | |
| --- | --- |
| Missing 14 year old in North/South Lake found dead - Their family was camping at North/South Lake Campground. Ryan Barrett, 14, of Lindenhurst, NY was found by NYS Police divers and the Sheriff's Marine unit in the north-west side of the lake. He was autisitic, and it is believed that he had a seizure and drowned. A search was initiated on June 13th at 7:30 PM shortly after they had arrived at the campground. | |



Ben Nephew Wins 2009 Escarpment Trail Race - for the ninth consecutive year in a row. Ben is a world class Trail Runner and a team member of Inov-8. The Escarpment Trail Race starts on Rt 23 in Windham and follows the Escarpment Trail to North/South Lake in Haines Falls. It is a 30k run over some difficult terrain including Blackhead Mountain. The runners must climb 10,000 feet of vertical. 2009 was the wetest summer in 60 years, and it slowed all of the runners down.


1st Ben Nephew (2h 56m)
2nd Greg Hammitt (3h 01m)
3rd Dave Vona
4th Mike Dixon

Photo by Tamme Stitt






New Prediger Road Parking Lot A new parking lot has been created at the end of Prediger Road for hiking Echo Lake, Plattekill Mtn, Indian Head Mtn, and Twin Mt. It can hold approximately 25 cars. The parking lot can be found past the end of Prediger Road on the dirt road on the right. Please note that the dirt road is surrounded by private land. Please respect local land owner by keeping off their property and keeping the noise down.






More injuries & deaths at Kaaterskill Falls This season has claimed one life and another serious injury at Kaaterskill Falls. And, the year isn't over yet. Due to the recession, the the Falls has been busier then ever. The short path up to the base of the Falls looks more like a sidewalk in Manhattan then the Catskill Wilderness. On June 13, 2009 Jeremy W. Mullins, 32, of Savannah, GA fell 60 feet to his death from the closed Escarpment Trail from the base of the Falls to the top of the Falls. On July 11, 2009 another person fell from the same spot and substained broken ribs and multiple cuts. Both were wearing street shoes. They join a long list of people who have been injuried or killed at the Kaaterskill Falls.



<! -------------------------------------------------------------------------- RIGHT SIDE OF SCREEN --------------------------------------------------------------------------------->
---
VO Maps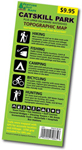 The next generation of hiking maps for the catskill mountains.
---
Copyright 2001-2010 www.catskillmountaineer.com ALL RIGHTS RESERVED