On Saturday, May 1, 2010 a group of hikers from singles hiking club called
http://www.meetup.com/hikingmates/calendar/13147920/
had a hike into Devil's Kitchen in the Platte Clove Region. An inexperienced hiker named William J. Costello, 52, of Delmar, New York (suburb of Albany NY) fell 160 feet before hitting the ground, and then fell down another 40 feet down until coming to rest in some brush. It is reported that the accident occurred around 11:15 AM in the morning. He was pronounced dead at the scene. The region where he was hiking was extremely steep, where there is virtually no place for a footing. They should have been roped up for this hike.
Devi's Kitchen got it's name for a reason. The region is exceedingly difficult and dangerous. Devi's Kitchen region is known to run from the top of Platte Clove valley and falls down multiple water falls into West Saugerties. This area is known to have a lot of Timber Rattlesnakes and Northern Copperheads in it. The north side was close two decades earlier due to a large number of deaths of people falling off. Back in the late 1800's and early 1900's they used to keep wooden walkway (now gone) and steps down (now gone) the north side where the water runs down from the Kaaterskill Mountain Range. It was called the Grand Canyon. Some people still get down into the clove from this access point (Rt 16), but it is exceedingly dangerous and privately owned (now owned by the State). The south side has safety signs telling people of the impending dangers of proceeding towards the edge. The south side is known to have hollow ground where you can fall thru the ground into rock crevices. You can also pull back a conifer branch and find a drop of 100' plus feet. It is truly a dangerous area. On the west side is Plattekill Falls which is over 100' high, and is used by rock and ice climbers. The east side from West Saugerties runs thru some very difficult terrain littered with poisonous snakes. A number of years ago a man died in a placed called Hell's Hole, and it took EMS officials 3 days to remove his body.
It has also been alleged that the hiking club had a large group of 29 hikers, and it is unknown if they had a permit from the New York State DEC. It has also been alleged (unconfirmed - update: hiked several hundred feet to the left of there) that they hiked down thru the Grand Canyon region.
The hiking club had reported the hike and difficult and strenuous (before they removed the posting). Here is the posting: "Catskills day hike, Platte Clove Waterfalls, less than 5 miles, slow pace, strenuous terrain." It is reported that William Costello was inexperienced. It was also very hot in the region (in the 80's).
Stephen Tuomey, assistant chief of the Tannersville Fire Department. was the first official EMS member to get access to Wiliam Costello. Asst Chief Tuomey said that when he arrived there were already six hikers around the body.
The following agencies were involved in the recovery and investigation of the death of William Costello, NYS Police, NYS DEC Forest Rangers, Tannersville Fire Department, Haines Falls Fire Department, Palenville Fire Department, Centerville Cedar-Grove Fire Department, Woodstock fire department, and Greene County Corner Coroner Hassan Basagic. William Costello's Body was transported Saint Peters Hospital for an autopsy.
This would be the 4rd death on the Eastern Escarpment in the Catskill Mountains in the last 3 months. A fifth death at Kaaterskill Falls occurred just before New Years Day in 2009. This is an unusual number of deaths for this region.
Image of Devil's Kitchen from Huckleberry Point: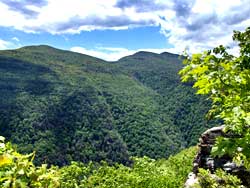 Antique Grand Canyon Postcard (bridge is now gone):
Satellite View: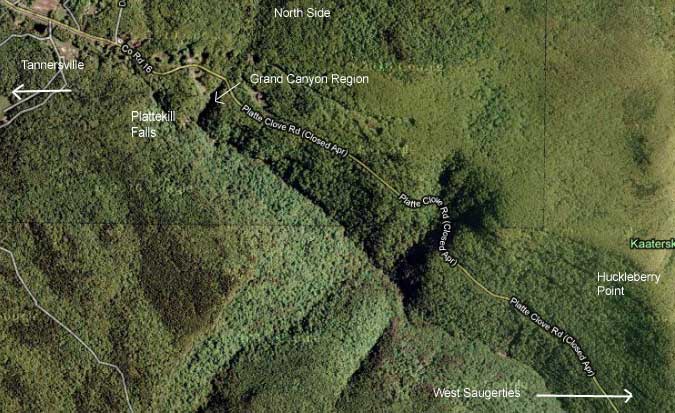 View of Bridal Veil Falls (near where he fell):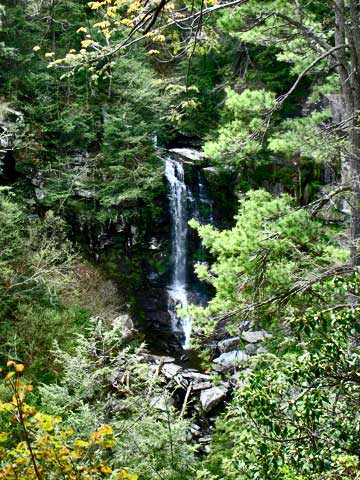 Memorial to one of many deaths over the years in this region:
View of Devil's Kitchen from further down Platte Clove Road: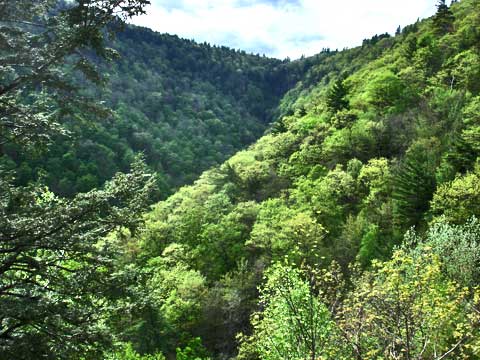 Terrain Map centered on Huckleberry Point
(click on link)
:
http://mapper.acme.com/?ll=42.12681,-74.06219&z=14,&t=R
Profile on Meetup.com:
http://www.meetup.com/hikingmates/members/11536218/
Here is the listing on the Groups Web Site:
C3B - Catskills Dayhike - Platte Clove Waterfalls
Location
Corning Preserve Boat Launch lot ; Colonie St; Albany, NY 12201
How to find us
"Gold Ford Ranger pickup w/ canoe rack, other hikers"
Estimated attendance
29 people attended.
Who organized?
Dave and Warren
Catskills Dayhike - Platte Clove Waterfalls
Rated - C3B, less than 5 miles, slow pace, strenuous terrain
Meetup time - Saturday, May 1, 2010 - 9 AM, will be back to the parking area in late afternoon.
Meetup Location - Corning Preserve Boat Launch lot
Colonie Street
Albany, NY 12201
[Attendees from south of Albany can be given directions to a meeting place in Catskill upon request. We will make quick stops at 2 other places on the way to avoid losing any participants.]
We will visit Platte Clove (or Plattekill Clove) in the eastern Catskills, one of the wildest places in the Hudson Valley, with truly spectacular scenery, where the Plattekill drops 1,500 feet in less than 2 miles down a steep-sided ravine. It is one of the most rugged areas in the eastern United States and was a favorite of the Hudson River School of artists. People who live or spend time in the Catskills know that "clove" means a steep, deep valley, or notch in the mountains. We will visit a number of waterfalls, in particular 80 foot high Plattekill Falls, and 100 foot high Bridal Veil Falls, and Hell Hole, described by author Russell Dunn as "an awesome gulf with precipitous walls and boulders of monstrous size." Looking down the clove one can see the Hudson River and beyond.
We will proceed down the Thruway to Catskill and meet again on Route 9W, then stop again briefly on Route 23A in Haines Falls. From there a series of back roads lead to our destination. Word processed driving directions will be provided to all attendees. NOTE: The driving route we will follow does not take one along the narrow, steep, sometimes dangerous road up the Clove, but we will access the place from Route 23A instead. For more information on this area, check out these web sites:
http://en.wikipedia.o..
.
http://nymag.com/trav..
.
http://catskillmounta..
.
This will involve a total of less than 2 miles of hiking (a little more if we follow some of Overlook Trail), but trails are steep and rain or very wet ground cancels the hike. Hiking boots or other footwear with good tread are required. Hikers should bring beverages, snacks & lunch. This hike is not recommended for anyone with fear of heights but is a great place for photography.
PLEASE NOTE:
Due to the challenging conditions this is not a good hike for young children, anyone unsure on their feet or fearful of heights. I also have limited the attendance accordingly.
Any questions, please e-mail Dave or Warren or call Dave at 2229713.
Also, I will have my cell phone with me the day of the hike. Dave
Meetup.com site is owned by a nationwide firm. The Capital Region section is organized by Jason Hosier. Assistant organizers (Dave and Warren) sponsored this hike .
UPDATE #1:
- There is some credible evidence that the organizers and leaders didn't get a permit for the large group. It is believed that the entire group was between 29-and-35 people. It also appears that the two leaders might have attempted to mis-register the hike and make it appear that they were a smaller group. We should have an answer back from the DEC tomorrow.
According to some witnesses nearby, William Costello fell a couple hundred feet to the left of the Grand Canyon. This the section that was closed about 20 years ago because of so many deaths. In this section, you descend down at an incline of 25 degrees thru a conifer forest. The pine needles are slippery. People would slip, and roll off the cliff at the bottom of the incline. To the left is a trail that will take you down to the bottom. It is steep and dangerous. It is reported that this is where he fell.
A background check of Meetup, Inc has reveled that they are a New York Corporation and appear to have sufficient money to handle a lawsuit. The company has headquarters in Manhattan. There are still a lot of variables, so it is difficult to determine what will happen in the future.
It is believed that he might have just moved from Ocean City NJ to an apartment on Kenwood Ave in Delmar NY. (Correction: Bill has lived in the Capital region of New York State all his life. He also have four children in the area).
UPDATE #2 (May 3):
- It is the NYS DEC's position that the group did not need a permit, and no further action will be done. They did park at the KHP parking lot the day of the hike. The DEC estimated that he fell approximately 150'. This estimate coincides with previous estimates of 160' before hitting the ground.