UPDATED STORY (Nov 14 at 6PM):
On Saturday, November 12, 2016 around 3PM, Anthony Miele (age 30) of Newburgh New York, fell off the upper part of Kaaterskill Falls. The upper part of Kaaterskill Valls is 167 feet high. State police reported that he fell 120 feet. He fell onto the rocks that surround the middle basin. We believe that the 120 feet amount is incorrect. The number should be around 150-160 feet. He was attempting to cross Lake Creek at the top of Kaaterskill Falls. The top of the Falls has very smooth rock, and often has excess algae. He slipped and was washed over the top part of Kaaterskill Falls. Unfortunately, hikers don't fall into the water of the middle basin. They fall onto the rugged rocks below.
The NYS Police are heading the investigation into his death. Local SAR were called to the scene on Saturday, where it was determined that he had died before he could be transported to the hospital. There were reports that he was alive but unconscious right after he landed, but died a short time later. Anthony Miele was transported to St Peter's Hospital where he will undergo a autopsy on Monday to determine the cause of death.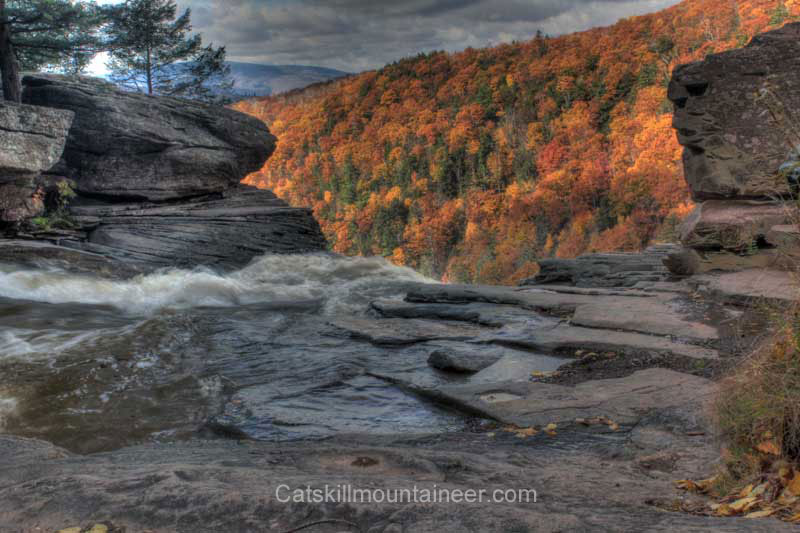 The upper part of Kaaterskill Falls is 167 feet high. . Kaaterskill Falls is one of the deadliest waterfalls in the world.
For more information on Kaaterskill Falls go here:
Kaaterskill Falls
For more information hiking around waterfalls go here:
Waterfall Safety Guide
ORIGINAL STORY (Nov 12): Today, November 12, 2016, we have received reports that a male hiker has fallen off the top of Kaaterskill Falls. A large number of EMS vehicles were seen on the horseshoe turn by Bastion Falls, and other hikers were being asked to leave. The male hiker is alive but unconscious with significant injuries. A helicopter has been asked to fly in for an extraction.
We have received conflicting reports that he fell onto the middle protrusion on the upper falls. This is a 20-50' drop from certain locations. If the hiker fell down to middle basin, there is little chance of survival. Only one person in 200, and two dogs have survived the 167' drop.
UPDATE (11/12 @ 6:15pm):
The hiker has died.
More information to follow.