UPDATES by the DEC (listed below 1st picture)
On July 25, 2023 (16) swimmers had to be rescued at two location on Kaaterskill Creek. After a thunder storm had dropped a large amount of rain in a short period of time in the Kaaterskill Clove, the creek rose quickly and trapped 16 swimmers on the wrong side of the creek. One of the swimmers called 911 for help.
The Greene County Sheriff department responded. They were joined by the New York State DEC Rangers, Hunter Police, and Twin Cloves Rescue Team. The Sheriff department also called in their Water Rescue Team.
Some swimmers were trapped at Fawn's Leap. Unfortunately, the swimmers at Fawn's Leap didn't know that there is a trail that would take them up to the DEC trail higher up the clove. There were also swimmers trapped at Rat's Hole, which is about 1/4 mile away from Fawn's Leap.
The Town of Hunter has closed all the parking spots on Rt 23a from Palenville to Haines Falls for the summer. But, this has not stopped swimmers from parking outside those regions and walking down Rt 23a to the swimming holes. The Town of Hunter has also received grants to have a shuttle bus system for this region. But, the stop points have not prevented swimmers from walking down the road. So, both swimming holes are still quite busy in the summer months. With almost all other swimming holes closed, young kids will do anything to get to the swimming holes. Since both Fawn's Lean and Rat's Hole are on NYS public land, they cannot be closed.
Thankfully, none of the swimmers were injured. So, the rescue provided a happy outcome.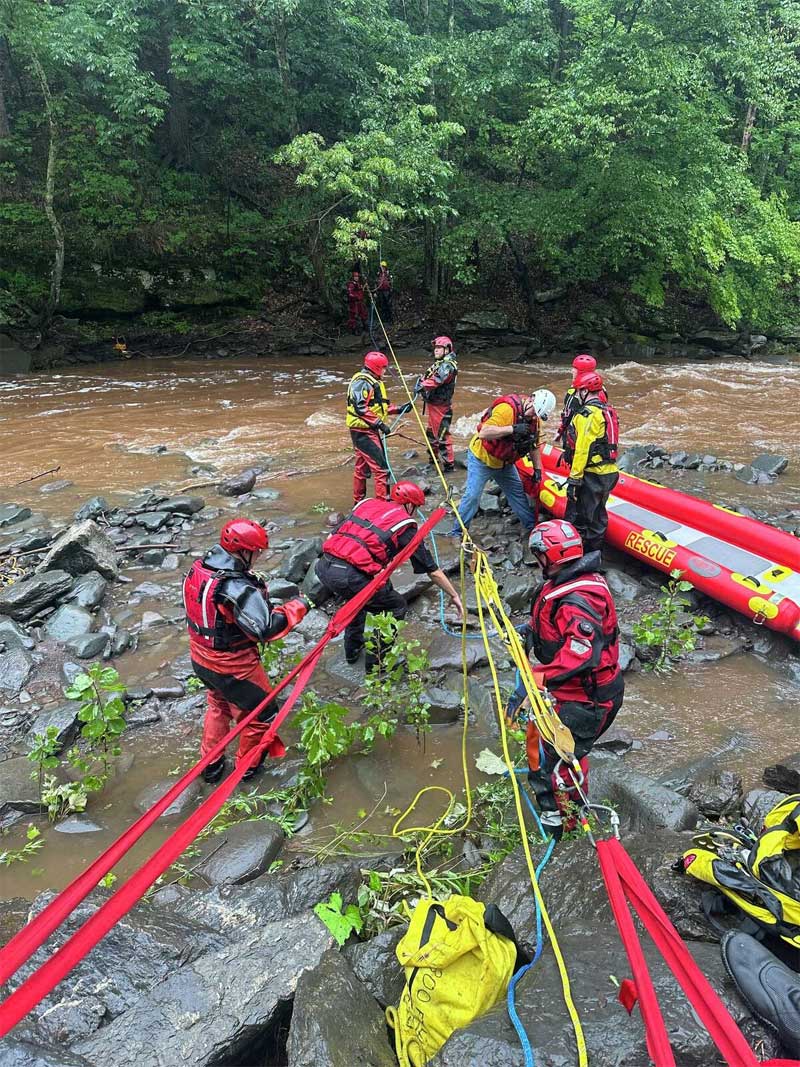 DEC UPDATE: Kaaterskill Clove in Haines Falls in Greene County


Swift Water Rescues:
On July 25 at 2:52 p.m., Forest Rangers responded to multiple reports of subjects stranded by flash flooding. Ranger Peterson responded to Kaaterskill Falls where one subject was stranded below the lower falls. The water was approximately four feet deep and rushing quickly. Ranger Peterson tied a rope to a tree, waded through the creek, and helped carry the subject across the water to safety. Ranger Peterson then headed to Fawn's Leap off Route 23A where seven subjects were stranded on the side of the Kaaterskill Creek. Forest Rangers Dawson and Fox worked with the Twin Cloves Technical Rescue Team to set up a high angle rope rescue system to pull the two subjects to safety. Rangers Ellis, Horn, and Jackson then worked with New York State Police, Greene County Sheriff's Office, Hunter Police, and Kingston and Tannersville fire departments to set up a swift water rescue system with an inflatable boat. One by one, each of the five stranded subjects was helped across the creek in the boat. No one was injured and rescues were complete by 6:44 p.m.