On December 2, 2011 (Friday) around 11 PM a hiker named Saudha Pamidimukkala, her 10-year-old daughter, and two other adult hikers arrived at the Elm Ridge Lean-to on Windham High Peak. The Elm Ridge Lean-To is located on NYS Forest Preserve. When they arrived the Lean-To already had three other people occupying the Lean-To. The three people already in the Lean-To were Patrick J McDonald, 26, of Garden City, Patrick McDonald, 60, and John McDonald, 20. The three McDonald men had illegally erected two tents inside the Lean-To. Under NYS law, you cannot put a tent inside a DEC Lean-To. You can erect a tent outside of the Lean-To as long as it is 150' off the trail. Under NYS Law you MUST share the Lean-To with any other hikers who show up later.
When Saudha arrived she requested space for her hiking party to sleep in the Lean-To. Apparently, the 26-year-old Patrick J McDonald was upset by this requested. He jumped out of the tent undressed and immediately assaulted Saudha by forcefully knocking her to the ground. By this time another undress McDonald man came out of his tent and started to kick Saudha. While the other McDonald man was kicking Saudha while she was on the ground, the 26-year-old Patrick J McDonald returned to his tent and retrieved a shotgun. He approached Saudha while she was on the ground and threaten to kill her. He demanded that she and her party leave immediately. In lieu of being murdered in front of her 10-year-old daughter, Saudha and her hiking party quickly returned to the parking lot.
The three McDonald men then returned to their tent and started to put their clothing on. Once fully clothed, the started to pursue and chase Saudha down the trail to the parking lot. Saudha then called the police and DEC Police Officers. Once in the parking lot they quickly climbed back into their car, and drove down Peck Road. The McDonald men then chased Saudha down Peck Road.
While being chased by the McDonald men, the police apprehended the McDonald men's car. Greene County Sheriffs arrested Patrick J McDonald, 26 with 2nd degree menacing. The DEC Police Officers then added additional charges of illegal actions on NYS Forest Preserve Property.
It should be noted the following NYS laws in regards to Lean-To's:
Lean-tos are available in many areas on a first come first served basis. Lean-tos cannot be used exclusively and must be shared with other campers." (source=NYS DEC). Additionally, you CANNOT pitch a tent inside of a Lean-To.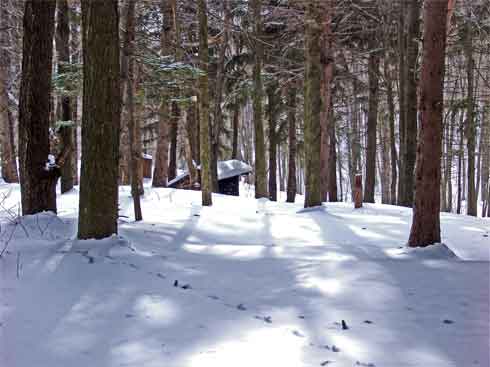 Elm Ridge Lean-To in the Winter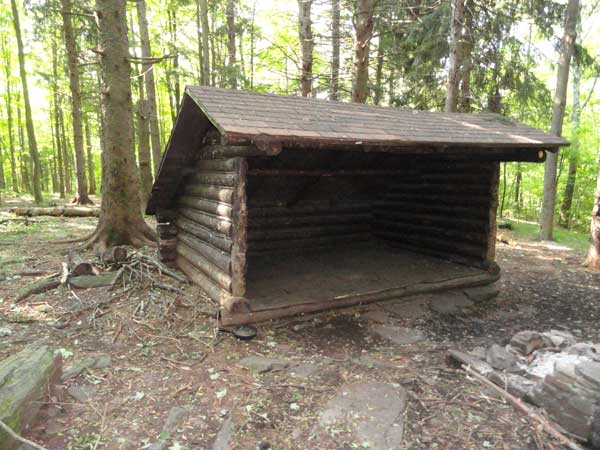 Elm Ridge Lean-To in the Fall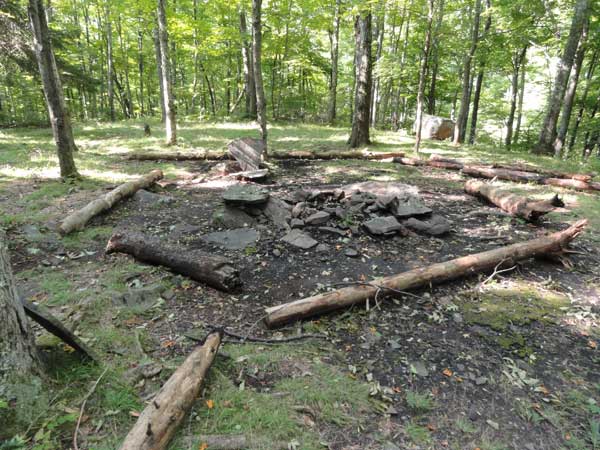 Elm Ridge Camping area and Fire Ring by the Lean-To in the Fall
You can read more about this story on the
Watershed Post
Here is Saudha Pamidimukkala Statement she made on another page:
Fellolw hikers,

On my backpacking trip to Windham this Friday evening we planned to camp in the lean-to and not carry tents. When we made it to the lean-to around 11 pm, the front of the lean-to was completely covered in plastic. My first thought was that they are doing some work on it. The plastic was actually stapled to the lean-to and when I peeked thru, I found two tents and all inside walls covered with heat deflecting material. A man popped his head out the tent and I started to say that we would like to camp in there. Before I can finish, he came out cursing and told us to get out. Of course I refused and tried to stand my ground and another man charged out of the lean-to, pushed me down to the ground and kept kicking so I couldn't get up. Mean while the first guy went in and came out with a shot gun, cocked it and said if I don't leave he will kill me. I don't know what they were doing there but they didn't even want us camping aroudn the lean-to.

I had my 10 year old daughter and two other HVH hikers with me. I probably would have tried to stand my ground and in the process get shot but for the group convincing me to get back to our car. On our way down we noticed the head lights behind us. The men actually chased us all the way back to the parking lot. The only advantage we had was that they had to get dressed to come after us. We barely made it to the cars and drove out to meet the DEC officer on the main road whom we called right after the incidence on our hike back to the car. The men actually followed us in their car probably to make sure that we are leaving.

The officers did stop the guys when they were trying to leave later that night and gave them tickets and we did tell the officers that we would like to file a case and will be willing to testify. Even though I feel the guys have come out just to distract the cops from coming up to the lean-to where they are probably hiding something…

It's sad that my 10 years old now thinks that the woods are the most dangerous place to be and even in the wild places, all we need to fear is our own kind…