Over the past couple of years, there has been a significant push to provide more cell phone coverage to the Catskill Mountains. This discussion is about a proposed tower above Twilight Park in the Kaaterskill Clove. It has been reported that a Public comment period will occur on January 2, 2018 at the Hunter Town Hall. But, there is no announcement at the Town of Hunter web site.
Over the past decade attempts to install cell phone towers was met with significant resistance and opposition. Most proposed cell phone towers were not approved. Mainly from significant opposition. But, in the past couple of years the opposition has been declining, and it is now at approximately 50%. Never-the-less, about 30 proposed cell phone towers are moving forward in the Catskills. This is being driven by Gov Cuomo, and down the political chain to local officials. And, they are determined to go forward with little input from the public.
Officials in the Catskills state that one of the primary reasons for the need of cell phone towers is because hikers want them for safety reasons. This is simply not true. Most hikers across the country are very much opposed to cell phone tower in hiking regions. The Catskills are no exception. Many hikers now carry SPOTs or PLBs for safety. Due to the deep ravines, cell phone coverage just doesn't work, where a PLB would. Furthermore, hikers are now using their cell phones as GPS tracking devices. So, hikers don't see cell phone towers as an advantage. They see it as a disadvantage. While people traveling in cars, or using their cell phones as phones in their homes would be the primary reason for installing cell phone towers. Many homes in Twilight Park do not have land lines, so they see this as an advantage.
Over the last couple of years, the cell phone industry has been pushing to change the frequency of cell phones to the range used by FM radios. In this case, a single tower would cover a 50 mile radius. The need for 30 cell phone towers in the Catskills would be a mute point in the future. Then the community in the Catskills will be stuck with rusting towers. We will get stuck with the bill for taking them down.
The primary disadvantage of a cell phone tower in Twilight Park would be that it would stick up far above the tree line. It is proposed to be 129' high, where the tree height is approximately 40' high. So, it will stick up above the tree line by about 90'. It will be an eye sore. It is not proposed to be a camouflaged tower to look like a tree. It will be a galvanized piping, that would have a significant reflection from almost anywhere in the Kaaterskill Clove. With the way that the sun light shines up the clove in the morning, and afternoon, it will be an eye sore for almost every one. AT&T has taken an intolerant position on it's location and height. If AT&T can't have their way, then they are not going to install a tower. AT&T's position is that they are only concerned about car traffic and homes in the clove and surrounding area. They don't care about hikers. AT&T refuses to consider other locations for the tower, or modifications to the tower. Officials say that the tower will provide signals on the trail to Kaaterskill Falls. But, due to the shape and walls of the Lake Creek Clove, cell phone reception will continue to be a problem there.
We understand that there is a need for more cell phone reception in the Catskills. But, we need to be wise about where we place them, the ability to remove them easily at a future date. If they really want to put a tower in the Kaaterskill Clove then, at a minimum, it should look like a tree. But, the wise position would be to wait for better technology in the near future.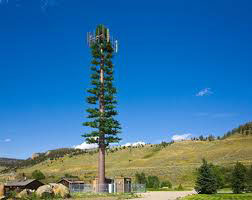 Cell Phone Tower that looks like a tree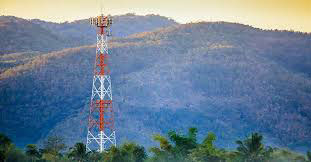 Cell Phone Tower that sticks way above the tree line