The weather on both Saturday and Sunday didn't look that great. But, Saturday looked better, so we headed off to the Blackhead Parking lot in Batavia Valley. The weather was overcast, but it wasn't suppose to rain, so we were grateful. The weather was cool enough that we didn't feel overheated.
After crossing the wooden bridge and registering at the DEC booth, we crossed the new stone bridge over the babbling creek. In the past, it was a difficult crossing if the water was high. The rocks were usually slippery. But, today it was an easy crossing. The hike up the the hill to the col between Acra Point and Burnt Knob was nice. Lots of flowers coming out. We saw hundreds of trilliums
At the col we ran into two young sisters in the early 20's from Albany who had only hiked in the Catskills once. But, liked it enough to return again. We would run into them multiple times during the day. They were young and didn't have a map, but seemed happy enough to be in the woods in a nice day. They finally decided to tackle Blackhead. I warned them that the climb up the face was steep and would be memorable. Always nice to see young people hiking in the woods instead of attached to their cell phones.
There are now multiple view points on both the east and west side of Acra Point. Being a view junkie, I never complain about new view points. We stopped at Acra Point and had a bit to eat, and then pressed on. The hike across the ridge line was nice. It always is. No shortage of flowers.
At the base of Blackhead, I checked out the old road down the face to Cairo. We then headed down the hill to the parking lot. After the switch backs we discovered that the DEC had just added a new tent campground. It is half way between the trail junction to BH and the Lean-to. Finally, we get a campground where it is needed.
We then stopped at the lean-to and talked with a guy from Conn. He was hiking the Escarpment Trail from South to North. We had a nice conversation, and then meandered down the trail at a slow pace. Overall, we had a real nice hiking day.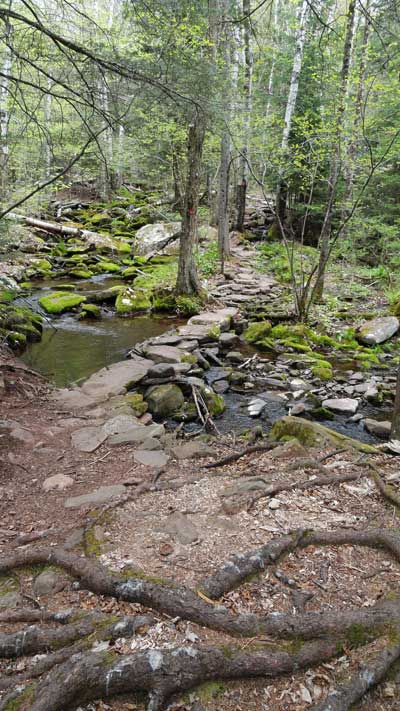 New stone bridge at the beginning of the hike