The night before I left, we decided to get dinner in town. Wouldn't you know it, the battery in my car developed a short. Had to hike home to get the other car. Had to change plans. In the morning I would need a lift to the airport. Nothing works out as you plan.
I had a 5:45 AM flight out of Albany. Ugh! It was a 3-leg flight. From Albany to DC. Then DC to Denver. Then from Denver to Great Falls, MT. Our flight got a rotten start. It appears that the ground grew fell asleep. We sat on the plane for an half hour waiting for our luggage to be loaded on to the plane.
When I got to DC we had to run to catch our Denver flight. On the Denver flight, the girl next to me was in her early 20's and from another country. Her mouth ran solid for 1-1/2 hours. She finally got tired and fell asleep for the rest of the flight.
The flight up to Great Falls was great. The girl next me was the complete opposite. Respectful and very nice.
Next stop was the car rental counter. I smooth talked the girl into upgrading my car to a subaru outback for free. Very happy about that.
I then headed up Rt 15. I was suppose to pickup Rt 89, but missed the exit. The sun was shining and the wheat fields were glowing. Nice 75mph speed limits were great. I then took Rt 44 over to Rt 89. As I approached Browning, I saw a grizzly bear sitting in a cattle field. Yup, I'm in Montana. After I came out of Browning, I saw some wild horses running across a field.
I arrived at the West Glacier entrance. I then headed to the Fish Creek Campsite. Setup my tent. Then I took a trip down to Lake McDonald and got something to eat. Took some pictures and then headed back to my tent. Quiet time was 10 pm, but people were playing music until mid-night.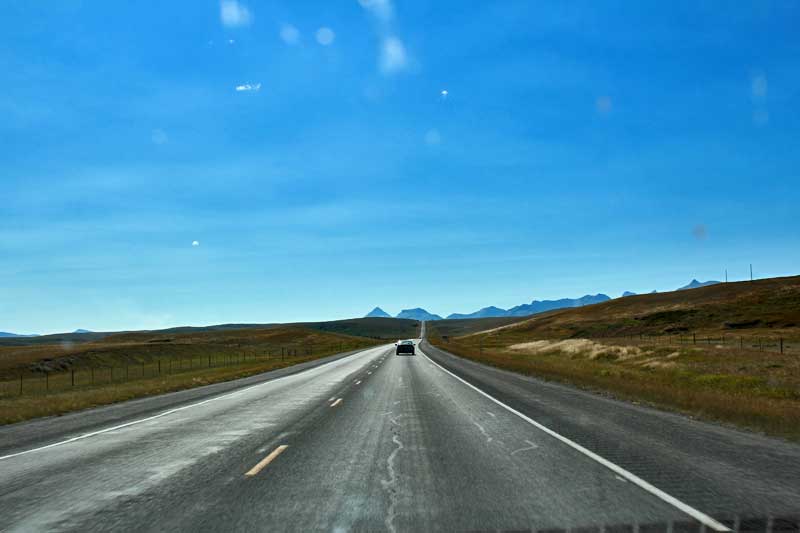 Rt 44 (south of GNP)
Lake McDonald at sunset