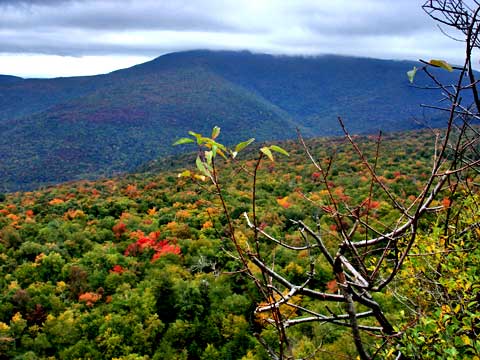 Picture of Slide Mountain taken from Giant Ledge
On Saturday two men, Michael Leleszi and Erin McKinstry, of Huntington, NY went for a hike on the Slide, Friday, and Wittenberg Transverse between Rt 47 and Woodland Valley. This is a popular DEC trail. But, it is a difficult hike with some difficult sections, such as, the Cornell Crack and the climb up to Wittenberg Mountain. While it was warmer then normal this weekend, certain unexpected conditions did exist. Numerous hikers reported that very wet conditions existed. Some hikers reported wet and cold feet in the region. With the rain and melting snow, there was an unexpected amount of cold water to hike though. Some regions received cold rain on both Saturday and Sunday. While officials didn't provide why they could not make it out of the woods in the timely manner, we do know that they suffered from cold exposure.
Early Sunday morning, around 6 AM, 911 received a phone call of two men stranded on Slide Mountain. EMS passed the call on to the NY State Police in Hurley/Kingston. The NYS Police called in the DEC Rangers to conduct a Search-And-Rescue for the two men. The SAR mission started on Rt 47 AND Woodland Valley DEC parking lot. The search took a good part of the day to locate the two men. The DEC Rangers and NYS Police considered using a helicopter, but due to overcast weather, this idea was not used. It became a complete foot SAR.
During Saturday night the two men ran into a group of experienced hikers who provided them with dry clothing and helped them get shelter from the elements. We are grateful that the experienced hikers providing help, but we would have hoped that they would have guided them out of the woods to safety. But, it is easy to look back and make judgments. We don't know what conversations transpired between the two groups.
Later in the day on Sunday, DEC Rangers and NYS Police located the two men. They gave the men more warm clothing and allowed them to warm up. They then guided them out of the backcountry to safety. Once out of the woods EMT's examined the men, and then released them.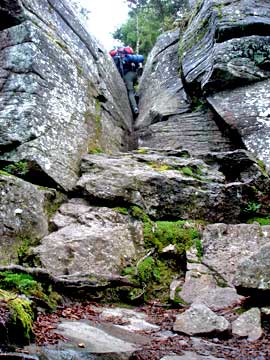 Cornell Crack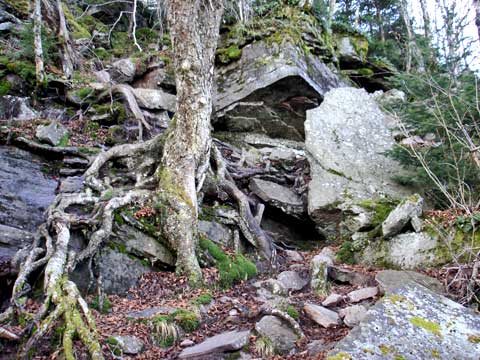 One of many difficult sections