A 17 year old girl who resides in Ulster County fell 100 feet to her death in Platte Clove. She is believed to have fell very close to where Bill Costello (52 years old of Delmar) back on May 1, 2010. According to NYS Police she did not have the proper hiking shoes for this hike. She was hiking with a group of 4 people. There are reports that she stepped away from the others when the accident happen. It is believed that she may have fallen very close to where the forth picture was taken. The land in this area is about 25% in grade. As you get close to the edge the incline increases. Additionally, there are slippery pine needles. If a person falls here, they are is near zero chance of a recovery. The person then slips off the ledge to their death. This area has been the site of many deaths over the years.
Olivia Rose Belfiglio: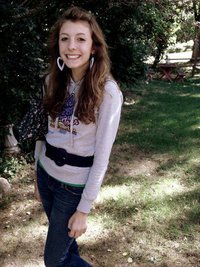 You can visit her Facebook Page here:
http://www.facebook.com/home.php?#!/pages/RIP-Olivia-Belfiglio/127407273947237?ref=ts
Update #1 (June 4):
According to the Kingston Freeman, there were two girls and two boys. The kids "cut" school to go hiking. They are reporting that she fell 200 feet. This region does have cliffs that are 100-200 feet high. It is also reported that they tried to revive her with CPR without success. The Greene County corner was called to scene. It is also reported that the other 3 teens had to be rescued from one of the ledges close to the cliff.
Update #2 (June 5):
The name of the 17 year old girl has been released. Her name is Olivia Rose Belfiglio of Saugerties NY. According to sources, the entire Senior class of the high school were hiking in the region for Senior day. It is our information that a small group of 4 people went down the path on the left of Hell's Hole Creek. This region has very slippery pine needles. There have been a staggering number of deaths over the years. She slipped on the slippery surface and once she hit the ground, she could not recover and slid off the ledge. The accident happen approximately at 2:30 PM on Friday, June 4, 2010. Conflicting reports continue to state that the ledge was 100 feet or 200 feet. Based upon what we know, we believe that this particular ledge is around 100 feet high. We have also received unconfirmed that she may have also attended Kingston High School several years ago. We could not confirm this. The EMS agencies involved were NYS Police of Catskill, Tannersville Fire Department, and NYS DEC Forest Rangers. No other names have been released.
Update #3 (June 6):
Olivia Belfiglio was an honor roll student of Kingston High School until her Senior year. She had transferred to Saugerties High School a couple of months ago. She had been on the Kingston High School Track Team for quite a few years. She was well liked by friends and classmates of both schools. Olivia Belfiglio was also a Student Member of the Town of Esopus Environmental Board.
She was also an experienced hiker. She loved the outdoors. There are conflicting reports that she was wearing sandals, flip-flops, or sneakers. None of the four hikers were wearing quality hiking boots. The dangers of this particular spot is not obvious to experienced hikers. Even if she had been wearing hiking boots, she many not have realized the dangers. It is possible that she had hiked in this area before. Not that many people know about this trail.
Olivia Belfiglio is the daughter of Ulster County Legislator Carl Belfiglio (Port Ewen). Her Mother lived in Saugerties, NY.
The Wake for Olivia Belfiglio will be held at the A. Carr & Son Funeral Home on 65 Lucas Ave in Kingston New York. Times are from 2 to 4 and 7 to 9 p.m on June 6, 2010.
The funeral for Olivia Belfiglio will be at 11 AM, on June 9, 2010 (Wednesday) at St. James United Methodist Church, which is located on the corner of Fair and Pearl streets in Kingston.
Olivia will be buried in the Hurley Cemetery.
Notes to family and friends:

You can post pictures and stories on this page. If you need help, please contact me, and we will post them for you. Our condolences go to the Family and Friends.
Note from Catskill Mountaineer:
Devil's Kitchen region is exceedingly dangerous. Many very experienced hikers will not hike in this region. It is recommended that you hike in this region with climbing gear (ropes). There is a fairly easy access to a view of one of the larger waterfalls. This area has very slippery pine needles. There have been countless deaths of people falling and sliding off the ledges to their death. There are 14 waterfalls over 20 feet high, and climbing these Falls is exceedingly dangerous and the paths are very slippery. Please do not hike in this region.
More information to follow in Updates.
Image of Devil's Kitchen from Huckleberry Point: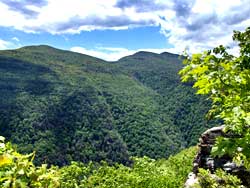 Antique Grand Canyon Postcard (bridge is now gone):
Satellite View: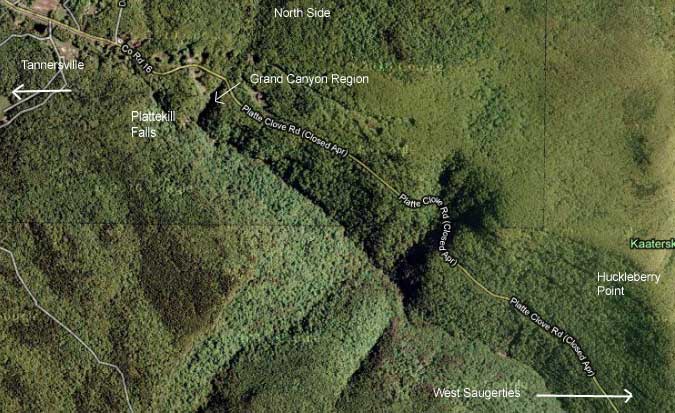 View of Bridal Veil Falls (near where he fell):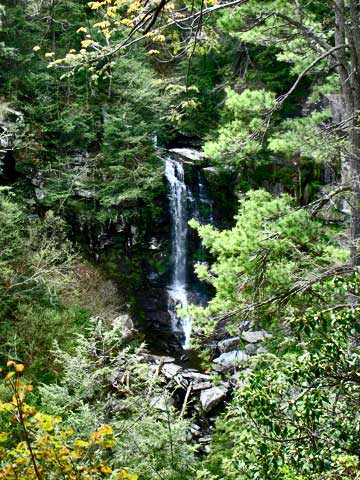 Memorial to one of many deaths over the years in this region:
View of Devil's Kitchen from further down Platte Clove Road: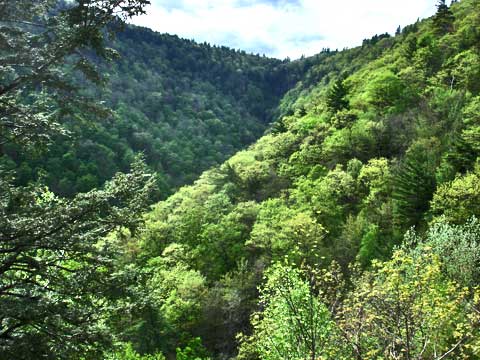 Terrain Map centered on Huckleberry Point
(click on link)
:
http://mapper.acme.com/?ll=42.12681,-74.06219&z=14,&t=R