On Saturday, we headed up to North-South Lake. Due to the rain the day before, many areas were flooded, so we decided to stick to some place safe. We parked down by the lake. Only one other car in the parking lot. The lake ice didn't look very safe. The outflow of South Lake was running strong.
We headed up the old Hotel Carriage Road. The rain had cleared part of the trail of snow. We then headed down the Escarpment Trail. When we got to the side trail to Boulder Rock, we took a left into the woods. Stopped at the Fairy Springs and Lemon Squeezer. We then headed down to Druids Rock. We picked up the 3rd Ledge trail back to the Hotel Carriage Road.
We then headed back up the Hotel Carriage Road and took the western side of the 3rd ledge trail. It was a nice walk. When we came out at the junction to the cross-country ski trail, the stream was running strong. A little difficulty crossing the stream. We then headed up the cross country ski trail back to the car.
It also appears that a bobcat had moved in to the region. This is the 3rd one we have found on the last year. This guy just moved in. We saw his tracks in quite a few places.
Hotel Carriage Road
Hotel Carriage Road
Fairy Spring
Lemon Squeezer
3rd Ledge Trail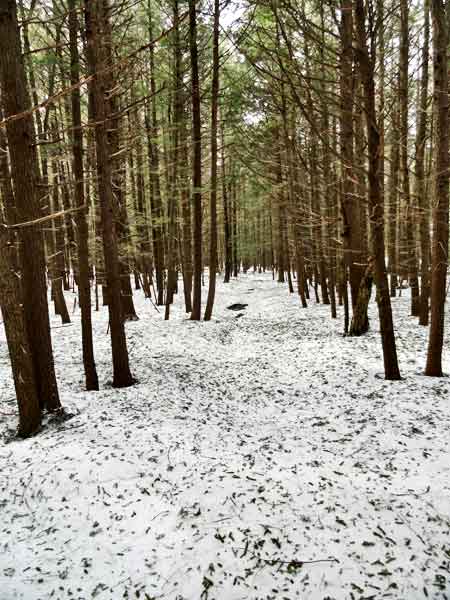 3rd Ledge Trail
Hotel Carriage Road
Old Stone building
North-South Lake
Overflow from South lake
Panoramic of South Lake