When I woke up, it was raining out. The forecast was that there would be thunderstorms and rain most of the day. I packed up and planned on moving over to the east side of the park. Maybe I could get a room at Many Glaciers? I headed over the Going-to-the-Sun Road. It poured rain the entire way. When I drove up the road to Many Glacier Hotel, the rain had stopped with a break in the clouds.
When I got to the hotel, there were not rooms, and no possibility of getting a room. Disappointed. My plan was to hike up to Appikuni Falls if it cleared up a bit. With it clearing up for a bit, I headed over to the Falls. I hit a Marmot Jam. People clogged up the road while watching a marmot. After getting through, I parked at the last parking space.
I hiked up the trail. There were a lot of people out. But, virtually none of them were hikers. It didn't take long to arrive at the Falls. I took some pictures and headed back. There was still a lot of haze over the valley. As I drove away, a new set of storms were rolling in. I got a little lucky to get a short hike in.
When I arrived back at the car I decided to drive back to Great Falls to get the car fixed. I drove most of the ways to Great Falls, but decided to stay in Choteau. Real nice hotel at a cheap price.
Appikuni Falls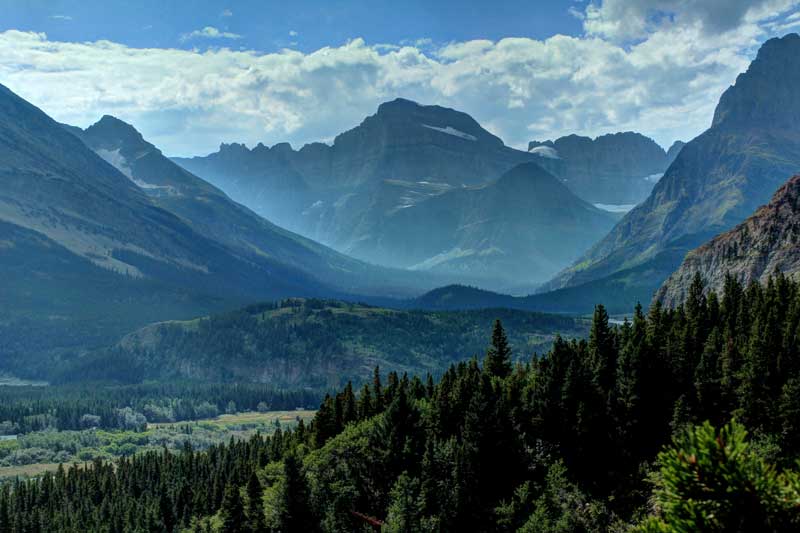 View over the Swiftcurrent Valley - Many Glaciers Hotel - New storm rolling in