Day #2 - Sept 2, 2013
Photograph Lake McDonald - Get permit - Hike Oberlin - Go to Bowman lake - Get missing supplies - Meet Todd - Back to Bowman lake.
Still being on Eastern Standard Time, I woke up at 4am and stayed in my sleeping bag until 6am. I got up and packed up. Drove down to the shores of Lake McDonald and took some pictures of the sunrise.
From there I headed down to get something to eat. I then headed to the Ranger station to get my permit. Why is it that I ways get the worst ranger to help me. He thought that he was funny, but he was just being a jerk. It took 2 hours to get my permit. He kept trying to talk me out of the permit. I finally got it.
I headed up to Logan Pass to hike Oberlin Mountain. Easy hike for the most part. Unfortunately the haze was terrible. I had hoped that by getting there early, I would avoid the haze. Didn't work out that way. It was early in the morning, so it was still somewhat cool. But, the haze was terrible. The parking lot at Logins Pass was almost full when I arrived. Lots of flowers and animals to see on the way up. The col between Clements Mtn and Oberlin Mtn was very nice. I looked for the best route into the basin for a future trip. Looks like straight down was best route. Not easy. On my way back, I got quite the scare. A male Big Horn Sheep came running by me at full speed. He just missed my left arm. He suddenly stopped. Couldn't figure out way. Started to back up to give him space. When I looked back I saw that his females were behind me. Egds...I was holding up the stampede. I then walked off the trail to let them by. The stampede continued without me. Every body was happy in the end. The parking lot was jammed full. People fought over my parking space. Way too many people at Login Pass for my enjoyment.
From there I drove up Bowman Lake to setup camp for the night. Very nice campground. From there I headed back to Kalispell to try and get some of my missing gear. Apparently, some of it got lost on the flight. Being memorial day, it was impossible to replace everything missing.
On the way out of Bowman lake, another driver came barrelling up the road. I had to drive off into the bushes to miss him. Scratched up the side of the rental car. OMG! Approximately 15 scratches from the front-to-the-back of the car. Looked horrible. It has been a rough day.
I headed back to Lake McDonald to meet my friend Todd. Todd was going to help me move my car for my backcountry trip. But, due to a variety of factors, I decided to not complete the trip. One of my objectives was to photograph the high country. With the haze and thunderstorms, this would not be possible. I am a view junkie, so I was disappointed. My foot was also bothering me. Probably from the heat. And, finally missing gear. So, I let Todd know that he didn't have to help me the following morning.
I then headed back up to Bowman lake. Saw a black bear sitting in the middle of the road. He moved as I approached him. Made it to Bowman Campground after the sun had set. Climbed into my tent. Just before I fell asleep, I heard a Barred Owl a couple hundred feet away. Nice way to end the day.
I knew that there were Great Gray Owls in the North Fork, and I would have liked to see one. But, a Barred Owl is okay with me too.
Here are some pictures:
Sunrise on the north side of Lake McDonald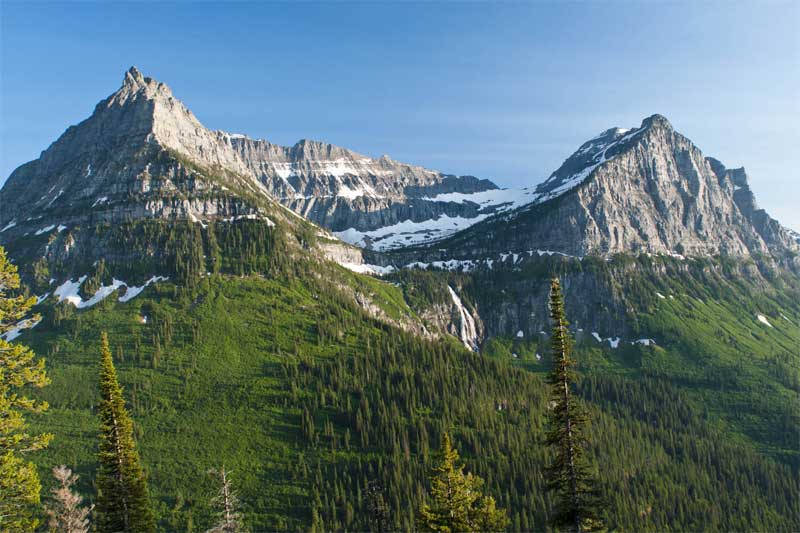 My short hike of the day is Oberlin Mtn (left spire)
Hiking trail to Oberlin Mtn
Oberlin Mtn
Clements Mountain
The only butterfly I photographed, but there were hundreds of other butterflies I missed
One of several marmonts
Some lingering flowers
Honey bee
Trail up to the col between Clements and Oberlin Mtn
View of the basin from the foot of Clements Mtn
View of Clements Mtn from Oberlin Mtn
Trail up to Oberlin Mtn
Male Big Horn Sheep - Leading the stampede
Female Big Horn Sheep - Me in the middle of them, and holding up the stampede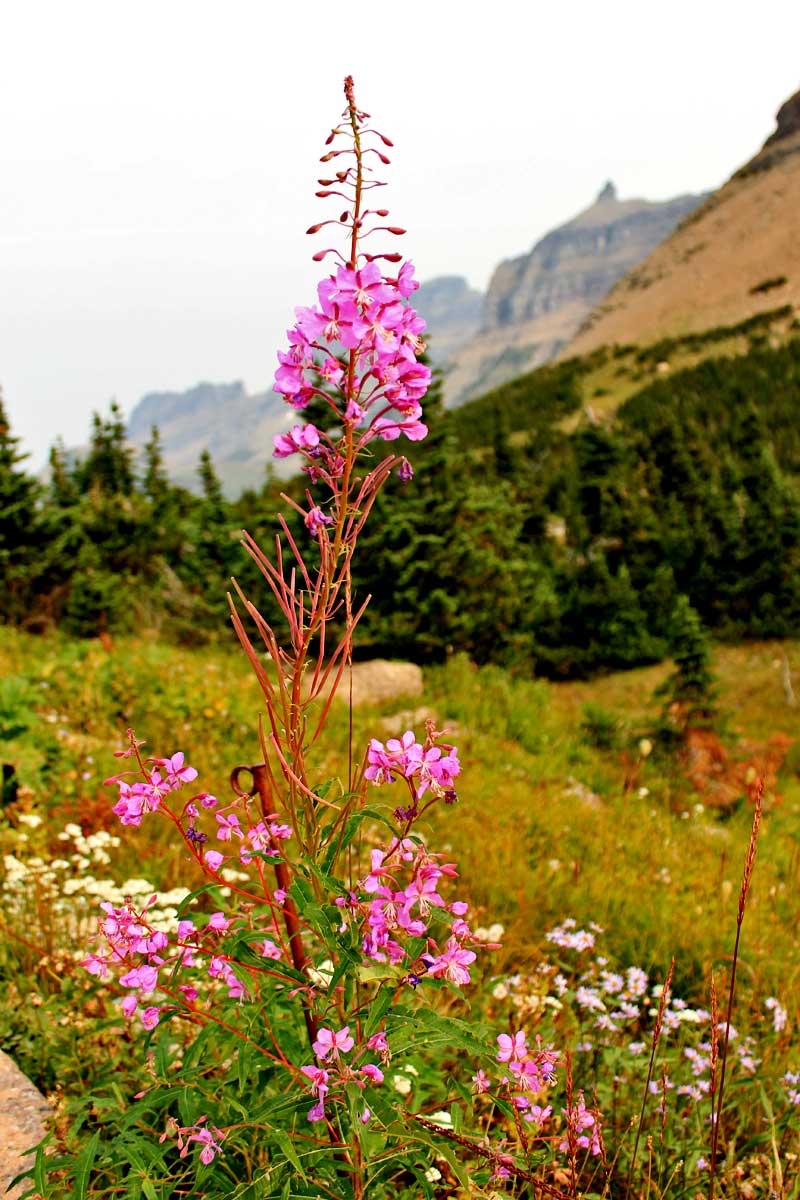 While this flower lost most of it's petals, it was still nice looking