Note from the Moderator:
If you have information or pictures, please Email us at: irene@catskillmountaineer.com
Rt 23 from East Windham to Windham has road damage on the west bound lane. On the 27th, one 4x4 pickup didn't see the opening and was pulled into 5' deep ditch. Water then engulfed the truck. It was later recovered in good condition, but wet. On the 28th a truck didn't see the asphalt sticking up and ripped open the side wall of his tires.
The side route into Hensonville, NY was severely flooded. The road is missing in a couple sections. Will be quite some time before this is fixed.
Inside Hensonville, NY the 60" culvert that runs under the town could not handle the water load and overflowed and destroyed some buildings. Other buildings were flooded
Windham had 3-4' water level running through the town. The west side of the town had the most damage. Some of the school buses were washed away in the flooding. It is uncertain when the Windham School is going to open.
Little is known about the extent of the damage to Prattsville. But, some are reporting that parts of the town were washed away. The trail park is believed to have been wiped out. There was also a rescue of people in a motel. The outcome is not known. But, there may have been some deaths there.
No power from Acra to Prattsville.
It has been reported that two deaths happen around Maplecrest. One body has been recovered (Lorraine Osborn). Her son went to the garage to get the car, and when he came back for his mother, the house was one. Her body was found on the 28th. One other person is missing and presumed dead.
An engineer reported that they believed that the Batavia Kill Reservoir was going to break. But, it was later determined that the leak was not structural.
An engineer reported that they believed that the Gilboa Dam might collapse. Later determined that it was okay.
The road above Maplecrest to the Blackhead Mountains is reporting severe damage. Someone reported that you can get part way in. But, a bridge is out.
Minor road damage to Rt 296
Hunter, NY didn't get a lot of damage. The bridge to Hunter Mtn ski bowl was closed. The sidewalk just west of the bridge collapsed in the creek. The house next to the bridge was listing to fall into the Schoharie Creek.
Tannersville had the stream overflow in the center of town and flooded some of the businesses. Just below there, was major flooding and road damage. You can get to Platte Clove from the road further down towards Hunter.
Haines Falls did okay.
Rt 23a was closed on the 27th due to flooding. When South Lake gets too full, it can overflow into the parking lot. If it overflows too long it can cause the earthen dam to collapse. Hence the closing of Rt 23a. Further down towards Moore's Bridge is a section of road that is in poor shape, and there was a concern. that Rt 23a might collapse.
It is reported that there is a bridge out in Palenville, NY. Not sure which one. We couldn't get there. But, I understand the conditions there are severe.
Rt 214 was closed to Phoenicia. It was reported that there is one death in Lanesville, NY. We understand that Phoenicia had severe damage. Just don't know what damager there was. Email us if you have more information.
Margaretville, NY was reported to have flooded according to CNN. We don't know much more then that.
Many in Greene and Ulster County do not have power, TV, land lines, or Internet. Land lines received the least amount of damage. Thankfully, the strike is over for now. Otherwise, it would be worse. Cell towers also seem to be doing well, but in heavy usage. Central Hudson's phones are being overwhelmed.
On the 27th, the Thruway was closed from NYC to Albany. A few small sections were open. I was lucky to go from Catskill to Coxsackie. One was the ONLY person on the Thruway in either direction.
Power is reported to be out in many parts of Greene and Ulster County. May not have power until later in the week.
It is reported that there was 10-15" of rain on the Mountaintop, but less wind damage.
The Eastern Escarpment received very high winds, but less rain.
21,100 people are without power in Greene County, and no ETA when they may get power again.
Many people in NYC, NJ, and Long Island had mandatory evacuations, and many ventured to the Catskill Mountains believing that they would be spared. Most of those people ended up where the most severe damage occurred. Many roads back to NYC are closed, so some feel stranded. Many restaurants don't have power. The McDonalds in Cairo was overwhelmed with people using WiFi and eating. Waits for food were 1/2 to 3/4 hour.
If you have more information, please contact us. Pictures or information is desired.
The Daily Mail has some excellent photos:
http://www.thedailymail.net/
Here are some of the pictures of the damage to the Catskill Mountains from Hurricane Irene on August 27-28, 2011:
Road damage on Rt 23 from East Windham to Windham
Trail to WHP from Rt 23 - Bridge is gone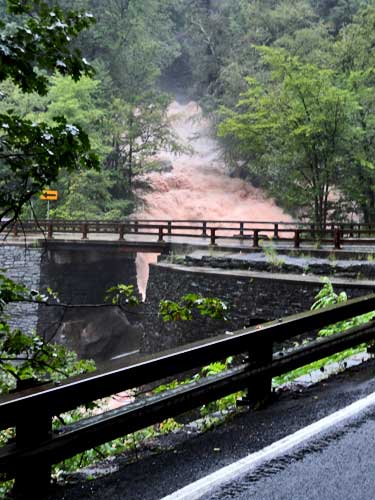 Bastion Falls off Rt 23a after water went down
Bastion Falls off Rt 23a after water went down
Storage Lockers / Gas station on Rt 23 - Just off Thruway exit 21 - Water was running over Rt 23
Not everyone was unhappy with Hurricane Irene
Road damage coming into Hensonville, NY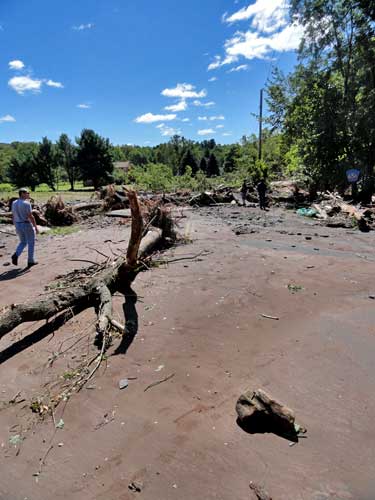 Road damage to Maplecrest and the Blackhead Mountains.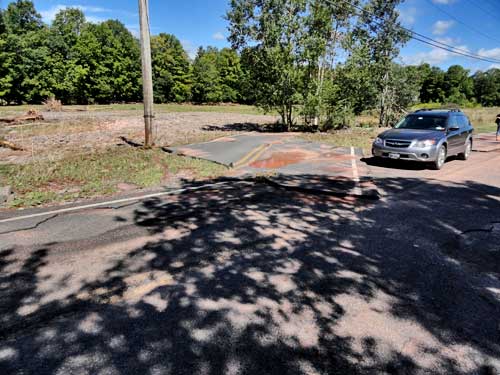 When you come to the Y in the road - make sure you go the right way
House that came off it's foundation a floated down to the Windham Bridge - Water was over this bridge
Tree debris at the Windham gas station
National Guard Helicopter air lifting out stranded people
Downtown Windham
Minor home damage in downtown Windham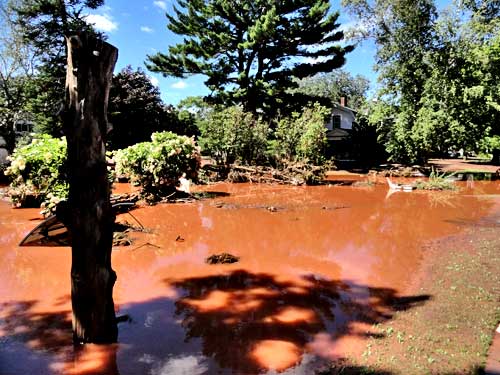 Storm damage in downtown Windham
GNH Lumber in downtown Windham