This bridge is in between Tannersville and Windham. This is the bridge that was lost to the floods of March of 2005. The town decided to build it so high that water would never rise to the top of the arch again. Never say never! Our truck was standing in 2' of water on the road when we took the picture.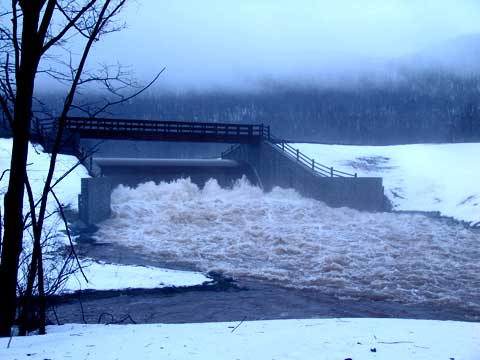 This is the new dam at Colgate Lake. The walkway on the right side of this picture is under 3' of water. The emergency overflow is full of water, but not overflowing yet. We couldn't get over there to see how close it was to overflowing.
This is just below the Colgate Lake Dam. The road was under water in multiple places.
This is just before the top of Kaaterskill Falls. Was not willing to get close to the edge of Kaaterskill Falls. Lots of slick clear ice there. The water was part way up the large rock on the right side of the Falls.
This is the upper part of Rt 23a from Haines Falls. This part never has water running. But, today it is running. There are many places where the water was running down the hillside. If you look to the right you can see Viola Falls!
This is what Lake Creek looks like on the path up to Kaaterskill Falls. Quite dangerous. This what it looked like after the water had gone down.
Bastion Falls after the water had gone down significantly. The FedEx guy told me that was was splashing on the right side of his truck as he drove by this morning. Not sure if it was excessive water spray or solid water. To the left side of Bastion Falls, water was running down the bank and onto the road. About 1/2' deep there.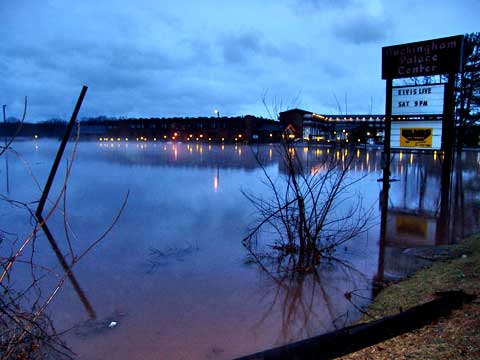 Friar Tuck Inn under 6' of water. Water was up to Rt 32. The farm at the intersection Rt 23a and Rt 32 is under water (the fields). The water is completely covering the fields, and is up to the edge of the road on both Rt 32 and Rt 23a.
In the section of road between Rt 32 and Palenville is under water also.