On the afternoon of Thursday, July 2, 2015, a 39-year-old climber/hiker fell about 20' vertically down after his rope knot came undone. After hitting the ground, he tumbled down the rocks another 50 horizontal feet. He was transported by helicopter to Albany Medical Center with multiple injuries to his legs as well as internal injuries. It was reported that he was conscious during the rescue. More information to follow.
The Platte Clove is considered one of the most dangerous places to hike in the United States. It also goes by the names, "Devil's Kitchen" and "Hell's Hole". The upper sections of the clove is incredibly dangerous. Over the past 200 years, over 200 people have been killed in the clove or have fallen off the rim.
Update - July 4:
After significant research, we are now rewriting the story. There are a significant number of details. Here is a summary of what happen: On the afternoon of Thursday, July 2, 2015, 39-year-old Christopher Lamme from Gardiner, NY was returning back to the east side of the clove after tying up the slack line on the west side, when the nylon webbing broke or knot came undone, and Mr Lamme fell about 70' vertically down after the slack line came undone/broke. Tying up a slack line takes a special procedure to secure it properly to prevent friction and abrasion. In a stoke of incredible luck, as he fell, he landed in a tree, which broke his fall. He then fell further to the ground. He fractured his leg, broke some ribs, and other fractures and injuries. SAR spent 7 hours searching and extracting him from the Plattekill Clove. He was later flown by helicopter to Albany Medical Center where he will survive and recover.
The day started with with 3 people hiking into Platte Clove. On one of the rims of the Plattekill Clove, they used a bow & arrow to shoot a small rope across the narrow part of Plattekill Clove. We believe they were around Japanese Falls, Rainbow Falls, and Bridel Veil Falls. Once the small rope was across, a person on each side of the clove can pull a nylon webbing across the clove to create a "Slacklining". The nylon webbing can be between 5/8" to 2" wide. The nylon line is not pulled tight like a tightrope, but is lying slack. Hence, the name, "Slacklining". It is usually only a few feet off the ground. When a Slack Line is pulled across a clove or canyon, it is called "HighLining". It is a more extreme version of Slacklining. When Highlining, they will use a body harness (or Swami belt) with a rope attached to the nylon webbing. There are few people who take it to another extreme. They walk the nylon webbing without a harness. You make a mistake, you die. It is called "Solo Highlining" or "Freestyle Highlining". It is a high risk version of Slacklining. The next level beyond Highlining is called "Recreating" or "Rope Swinging" or "Swing Lining". They will construct a Highline. You will then attach a caribiner with a long rope attached. They will jump off the rim and swing through the Clove or Canyon from the Highline Nylon Webbing. Think of it like a cross between a rope hanging from a branch of an Oak Tree and Bungee Jumping. It is an extreme sport that is high risk. The term, "Recreating" is short for "Recreating Gravity". Swing Lining can have lines that are 50' long or up to 600 feet long. This Swing Line was on the short end, but the terrain is extremely difficult. If you look below, we have pictures of each type of Slinglining.
Click Here
to see videos of Swing Lining.
This accident happen when Mr Lamme was returning from the west side of the clove when the slack line knot came undone or broke. He had just finished securing the knot on the west side. At the time he was Highlining with a body harness. It is reported that he fell about 20' and landed in one of the trees which broke he fall. Then then tumbled down another 50' until he came to rest in the Plattekill Creek. He was not wearing a climbers helmet, and was lucky to not hit his head. He landed feet first, which fractured his legs in a number of spots. He then fell sideways with his ribs hitting the rugged rocks, which broke quite a few ribs and other bones too. It was also reported that he hit a large rock on the way down. He did have other scratches and cuts. His two partners then called 911 close to 3pm, which starting off an extensive rescue. It took SAR 4 hours to find and rescue the injured Swingliner. The SAR team tending to the injuried Hignliner comprised of 5 member on the bottom of the clove along with the DEC and one of his friends. They would put him on a collapsible backboard and then basket him to the top of the rim. He was then transported to Tannersville, where a helicopter flew him to Albany Medical Center. He was reported to be in serious condition upon arriving. But, he is expected to survive and recover.
It should also be noted that since the water was running high then normal this time of year, hiking down Hell's Hole would be very difficult to get past the two pinch points where there are waterfalls. And, finally, the hike down to Devil's Kitchen would be very difficult. This section has rocks larger then a cars, and it is a steep 45 degree pitch. While Highlining and Swinglining is legal and possible in Platte Clove, injuries (even small ones) present huge challenges to SAR. It should be noted that these guys were very experienced climbers, and knew the dangers involved. Mr Lemme is a line rigger for Madison Square Garden in NYC. This man is very lucky to have survived the fall. Lucky to have a tree break his fall. And, lucky to not have hit his head. Carrying a PLB in Platte Clove is highly recommended. This helps SAR pinpoint your location. We hope that Mr Lamme recovers quickly and fully.
Here is an example of a hike through Platte Clove:
Click Here
The following agencies and groups were involved:
NYS DEC
Tannersville Rescue Squad
Tannersville Fire Company (SAR)
Haines Falls Fire Company
Cedar Grove Fire Company
Palenville Fire Company
Hunter Fire Company
NYS Police
Greene County Sheriff
Helicopter Medivac Team
Albany Medical Center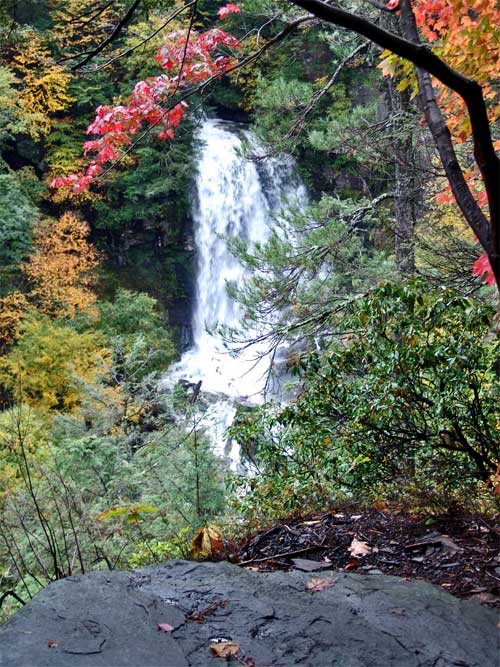 View of 90' Bridel Veil Falls from Bridel Veil Falls Lookout - This is near where the accident happen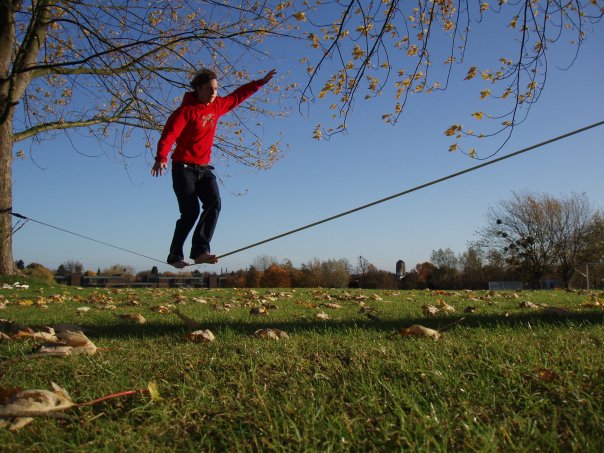 Slingling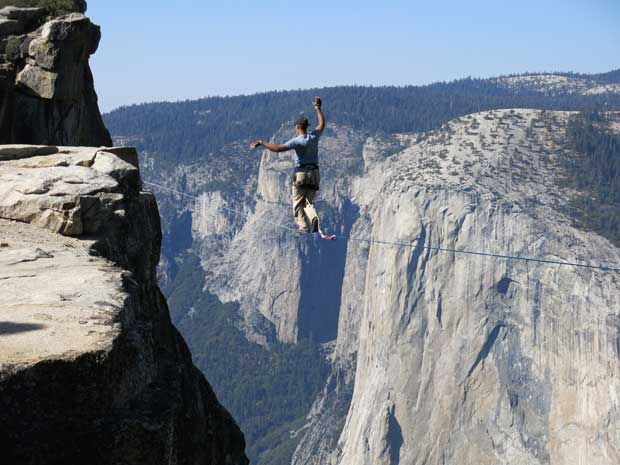 Highlining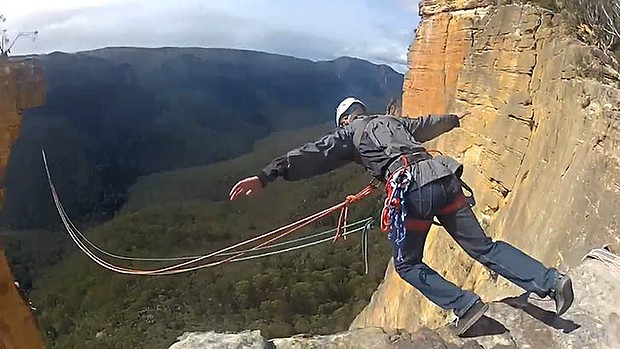 Swinglining