On Tuesday, August 1, 2017 Wayne Lamicela (60 years old) from Middletown parked at the Seager Parking Lot to hike in the Big Indian Wilderness. Lamicela had recently moved to the area from Rochester NY region where he had worked as an Engineer. The Big Indian Wilderness is a 33,500 acre wilderness located on the NYS Public Property. Additionally there are thousands of acres of forest owned by private property owns adjacent to the NYS public land. Around 6:30pm that day, Lamicela called 911 to state that he was lost and needed help. After the DEC could not locate him, a large Search and Rescue with over 50 people was started to look for him. SAR from multiple states, NYS Police helicopter, local fire departments, DEC Rangers, and local hikers all participated in trying to find him. He was found on Saturday August 5, 2017 by the care taker to the Gould Property, which owns DoubleTop and Graham Mountains. The care taker found him barefoot and sore while patrolling the property. He was able to escort the hiker down to the end of Hiram Todd Road. The DEC was called and he was transported to Margaretville Community Hospital where he stayed overnight. We wish Wayne a speedy recovery.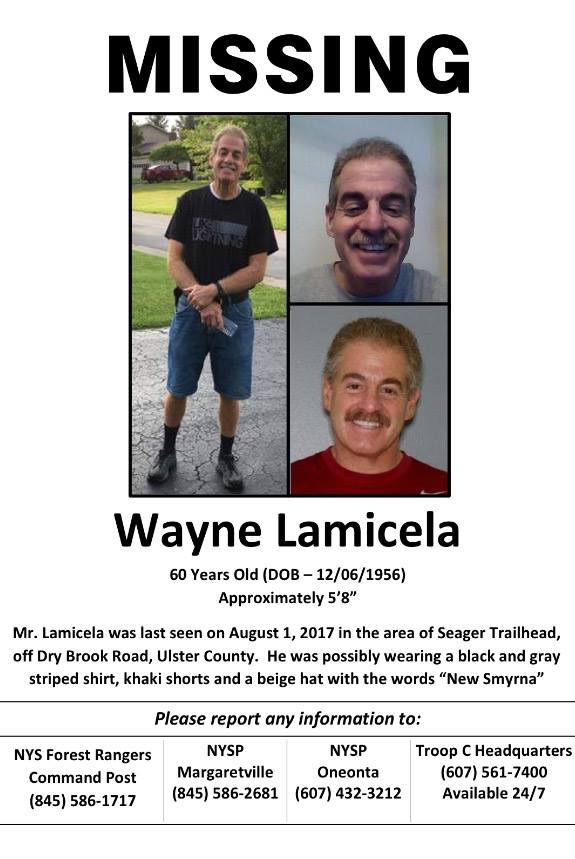 DEC Press Release #1:
http://www.dec.ny.gov/press/110965.html
DEC Press Release #2: Search for Wayne Lamicela
On Saturday, at approximately 1pm, a caretaker for private property located Mr. Lamicela, in a wooded area, while checking on the property. Mr. Lamicela was barefoot but still mobile and able to walk on his own power with the assistance of the reporting party who helped him to the end of the Hiram Todd Rd. There, a DEC Forest Ranger was able to positively identify Mr. Lamicela and assist with the final evacuation to a waiting ambulance. Mr. Lamicela was evaluated by the ambulance crew and transported to the Margaretville Community Hospital for further evaluation and monitoring where he remains at the time of this report.
Crews are currently still returning from their assignments in the field, it is anticipated that it will be several hours before all units are clear and back to the staging area. DEC thanks all emergency responders who aided in the successful search for Mr. Lamicela.