Problems on Malden Ave in Palenville
Posted:
Fri May 08, 2015 11:58 am
As many hikers know, the residents of Malden Ave in Palenville have been hostile towards hikers accessing the north side of the Kaaterskill Mountain Range. Illegal "No Parking" signs have been erected on both sides of the closed section of Malden Ave. Private residents of Malen Ave have been putting up the illegal "No Parking" signs on public property for years. The town has chosen to look the other way on these illegal signs. Some of the private residents have threaten hikers who are legally hiking along the closed section of Malden Ave. The aggression comes from the private residents.
Many years ago when Malden Ave was open, skiers used to use Malden Ave as a short-cut from Rt 32 to Rt 23a. Private residents complain that they drove too fast past their house. So, when a culvert failed on Malden Ave, the town chose to close a section of Malden Ave. At one time hikers did park on the side of the road. But, residents would then put up "No Parking" signs to drive away hikers. The hikers then would park in Palenville and walk across the Swing Bridge. But, when the Swing Bridge collapsed during Hurricane Irene, local residents on Malden Ave and in Palenville blocked efforts to rebuild the Swing Bridge. Some local resident told hikers that they were tresspassing, when they had the legal right to hike across the Swing Bridge.
Hikers then started to park on Rt 23a. Local residents then started to threaten hikers with arrest for hiking on public land (Malden Ave). Some local residents then put up "No Tresspassing" signs on the public section of Malden Ave.
The closed section of Malden Ave is also part of the Long Path. Hikers have done everything possible to make local resident happy. But, it appears that local residents will only be happy when the north side of the Kaaterskill Mountain Range is closed. This appears to be their overall goal.
We also understand that the DEC has an easement over the closed section of Malden Ave.
Jeff Vincent (DEC licensed New York state Guide) who lives in the area requested the Town of Catskill to allow some parking on the closed section of Malden Ave. Local businesses, were receptive to the request, because hikers bring in a lot of money for their businesses. But, the Town took a neutral approach, and stated that they will look into it. Others have also asked for some development of this region, but were denied in the past.
Palenville resident and business owner, Gary Kistinger, said that he tried to get the closed section of Malden Ave setup as a park, but a few vocal and local residents Malden Avenue stopped the idea. Money was even received from the state to create the park. But, the town refused the money, and the park was never created.
Local resident in the past alleged that hiker left garbage all of the place, and they had to clean it up. This claim is inconsistent with most hikers. Most hikers are very dedicated to cleaning up anything they find on the trail. This included parking areas. If you visit any DEC parking area, it is rare to find any garbage in the parking lot. LNT is the mantra of most hikers.
Catskill Supervisor Joseph Leggio further complained that hikers blocked driveways and parked overnight. Considering that there is enough room for 50-75 cars this doesn't seem possible. At most we have 10 hikers at the busiest time of year. We believe that Supervisor Leggio's claims are exaggerated. When the closed section of Malden Ave was open, there used to be a maximum of 15 cars. Some were swimming in the creek. But, now that the creek has been closed off, there would be even less cars.
In recent years local residents in the Catskill Mountains have been erecting illegal No Parking signs in many places to drive hikers out of the Catskill Mountains. This has drawn the attention of some prominent hiking groups. It appears that this issue will not resolve itself, and may end up in litigation.
Illegal No Parking signs put up by local residents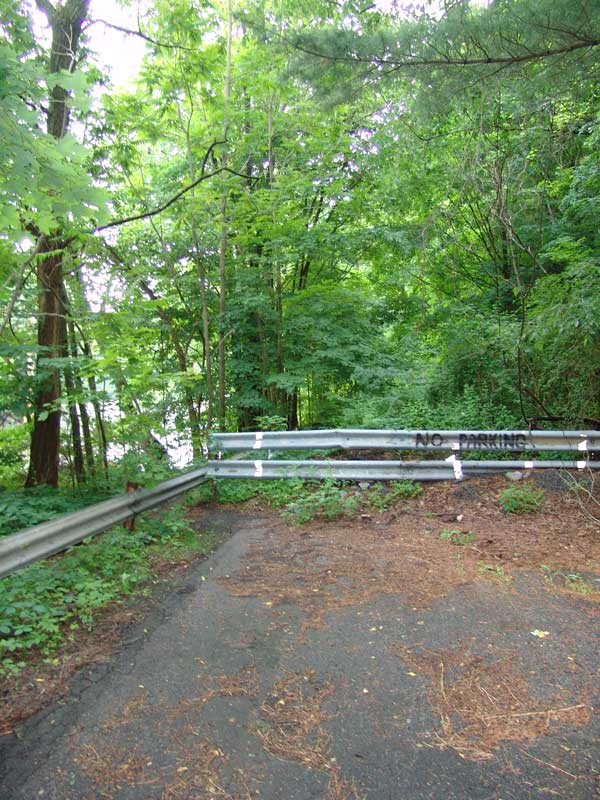 Greene County Tax Map showing the public section of the road