The tale of the angry Mink on Leavitt Mtn
Posted:
Mon Jun 18, 2012 1:06 pm
We were hiking up to Leavitt Mtn on Saturday, June 16, 2012. When we left the old road and hiked up the moderately steep path to the canister, we encountered a mink about 1/2 the way up the herd path. He stood on a tree mound with many holes around it's roots (balsam fir). He kept barking at us. We took a few pictures, but it was difficult because he kept running around, and there were branches and ferns in the way. It was obvious to us that this was his nest. We assumed that there was a kit below ground, but didn't see them.
We finally got around him when he came around the back of us. We then hiked up to the canister and signed in. After signing the book, we looked for a place for lunch. We finally found a place about 100' down the trail (towards the old logging road). Before we could sit down the Mink came charging up the path at full speed. He was coming right at us. I stood my ground, while Alexis moved off the path a little. He went right for her. He kept nipping at her boots. This scared her. So, she moved off into the balsam firs. This didn't stop the Mink from nipping at her boots. Once Alexis had to push the mink away with her pole, but he kept coming back at her. I finally told her to move towards me, and run down the trail. I followed her with the mink right at my feet. After about 300-400' I got ahead of the mink, so I stopped and stood my ground. When the Mink came charging back down the path, I took my boot and scuffed dirt at him. Apparently, this scared the Mink, and it stopped and stood it's ground. So, I head down the trail further. Again it followed me aggressively. But, as soon as I stopped, it would stop too. Finally, when we got to it's nest, it stood on the tree root mound and continued to "bark" at me. I took a few pictures, and it continued to guard it's den. Finally, I headed down the path, and the Mink didn't follow me.
Here are some pictures:
First encounter at the den site
First encounter at the den site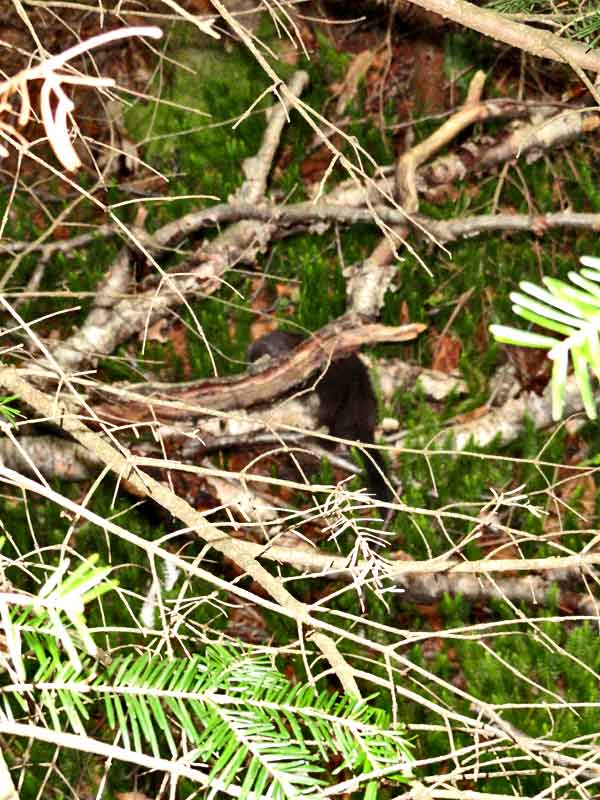 First encounter at the den site
Me trying to get away from being bitten
The Mink coming after me
Second encounter of the den - All pictures after this one are also at the den