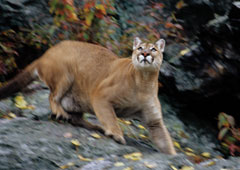 Please note: This picture was NOT taken in the Catskills. This images was taken out west. There is NO believable images of a cougar taken in New York State. We included this picture to show what a cougar looks like.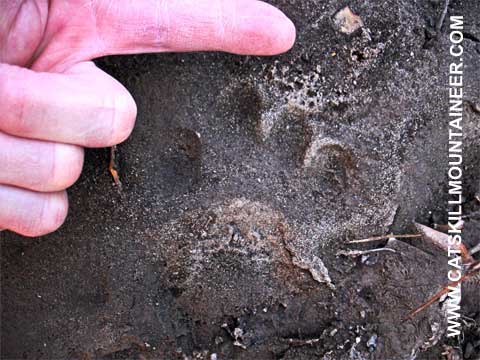 Cougar Prints in Kaaterskill Clove - Each segment of finger is 1 inch long
Discovery Date:
Dec 4, 2010
Location:
Kaaterskill Creek in between Lake Creek and Buttermilk Falls on the north side of old Rt 23a.
Print Width:
3" to 3-1/4" wide.
Stride:
35-36"
Print Shape:
circular instead of oval
Toe Shape:
tear drop in shape.
Outer Toe Angle:
~15 degrees
Kickup:
None
Toe Nails:
None
Number of Prints examined:
~50
Local Kills:
(1) Coyote and (1) deer
Witnesses:
Yes
Scat Found:
Maybe, but questionable
Sex:
Female
The prints are in a deep valley. The valley is about 100-200' wide with very steep side walls 40-70 degrees. A great kill zone for a cougar. Lots of deer use this valley to move from one region to another. This area was notorious for cougars back in the 1700's and 1800's.
We also had a tree that had unusual scratching. Hunters didn't think that a bear did the scratching. But, they didn't know what to think of it. I do have a picture. Hunters complained that this region has been a regular deer hunting region that has produced good deer. This year, they complained that there were very few deer in this region. They found it strange that they were missing.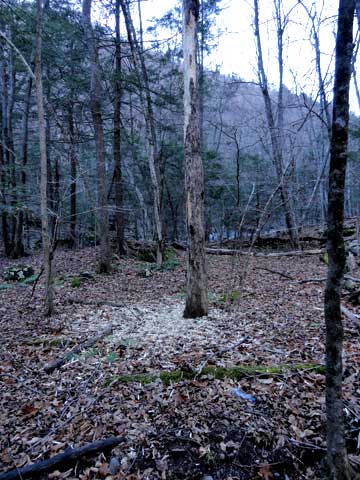 It should be noted that black bears commonly scratch trees and telephone poles in the clove, so we cannot say that this tree scratching is from a cougar. But, scratching did occur up to 20 feet up the tree.
We had two reports of cougars about 25 miles away this summer. But, since I didn't see it I always question it. But, this person used to live in Montana, and knows what they look like. One was located crossing Rt 23 in East Windham. A possible cub was sighted in Oak Hill. A year ago, one was reported crossing Rt 214 near Stoney Notch, tracks were seen crossing the Devil's Path and over near Huckleberry Point.
Pictures of the prints were sent to Reputable Cougar Experts for comments about the prints. No one has disputed that they are not cougar prints.
The prints were seen moving from the Northwest to the Southeast. The prints moved in one direction. This section of land was blocked from animal movement because of the storm on December 1. The creeks were 30-100' wide and raging. This section of Kaaterskill Creek is considered a Class V water. The only animal that could move in-and-out of the area is a cougar.
We did consider that this was an extremely large Bobcat. The prints do not match a bobcat. Most bobcats were killed last Winter in the Feb/Mar snow storm, where this region received 7-8' of snow. Since that time there are only 3 known bobcats in the Catskills. One was located in the Spruceton Valley; Second was on KHP; Third was killed on Rt 23 in East Windham. Never-the-less, we searched the region for the existence of one. None were found. The one on KHP was a small bobcat. We also setup trail cams looking for existence of a bobcat, and none were found. There is no reasonable argument or reason to consider these tracks to be a Bobcat. There are some differences between a bobcat and a cougar. The differences point to a cougar.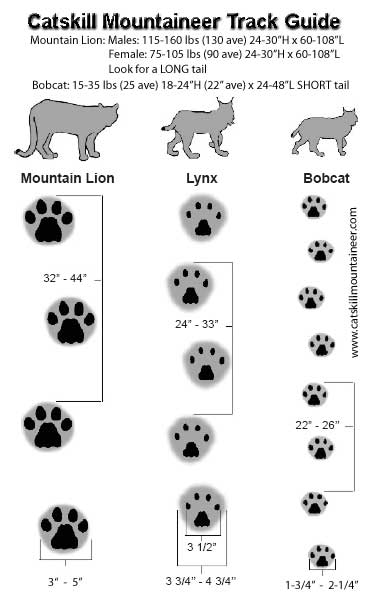 The first natural consideration was that this could be the large coyote that has seen on the Eastern Escarpment over the past couple of years. This large coyote usually runs with other coyotes, but not always. We do have prints from this large coyote. Coyotes outer toes have an angle greater then 30 degrees. Doesn't match these prints which are 15 degrees. Coyotes have nails, and these prints done. Coyotes have an oval print, where this print is round. Coyotes have dirt kickup, and these prints don't. We are sure that these prints are not from a cougar.
Large coyote prints taken from the Blackhead Mountains: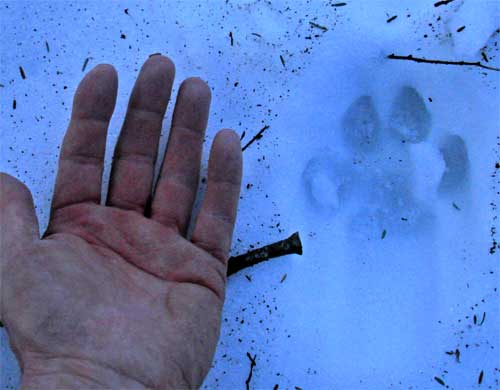 Large coyote prints taken from the Blackhead Mountains:
We also looked for kill sites in the region. We found two. This most believable kill zone was of a coyote. The next three pictures are from a killed coyote: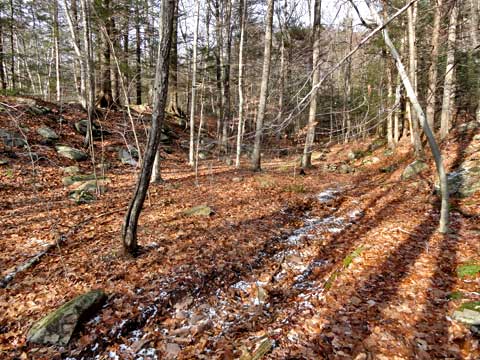 Believed Ambush location: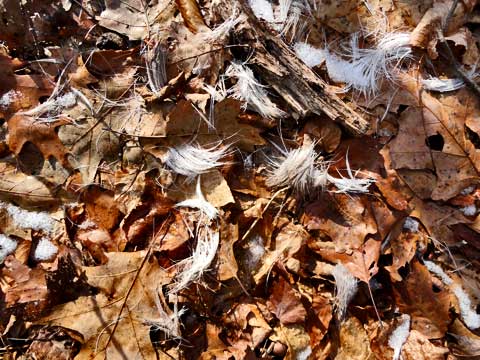 Attack zone #1 of coyote. About 100-200' from the ambush location. Note the white fur, that is often found on the underside of the neck of coyotes.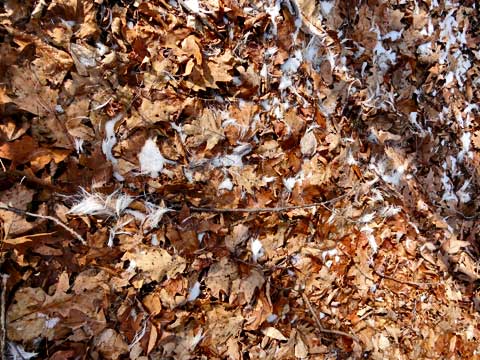 Final kill zone. Please note, we never found the bones of the coyote.
We also found a deer kill. But, it was close to Rt 23a. So, we question if this deer was killed by a cougar.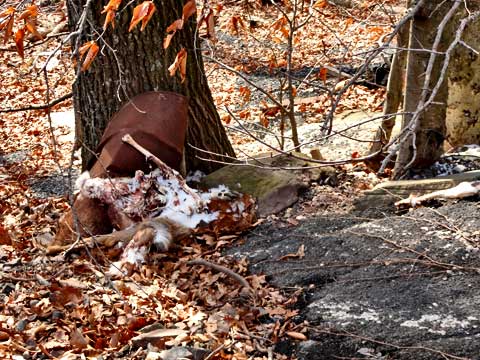 Killed Deer near Rt 23a - May not be a cougar kill.
Here are two other images of some of the prints. Unfortunately, the sun interfered with the quality of the image: